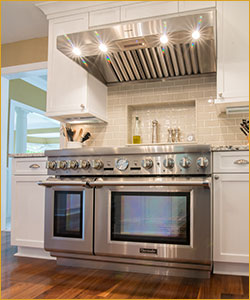 At Call Gary Kitchens & Baths, we offer both kitchen and bathroom remodeling services. Regardless of what service we are providing, you can expect hard work and clear communication. Most of all, we want to listen to what you have to say. This is your home, your kitchen, your bathroom – and we believe it should have your personal touch to it. We are confident in our ability to exceed your expectations with our service and give you the kitchen or bathroom that will be the envy of your friends and family!
What to Expect from Call Gary's Kitchen Remodeling Services:
We will work step by step with you throughout every part of the project so you get none of the confusion or miscommunication common with other remodelers.
Design work done by a Certified Kitchen Designer, Lisa Henderson, who will listen to your ideas and work with you to make them happen. Throughout the design process, from drawing to materials selection, you can count on Lisa to walk you through the details and pay attention to your needs. Get a professional-quality design, with your own personal touch!
Installation done by experienced remodeler and Call Gary owner, Gary Johnston. You not only get a highly regarded professional working on your kitchen, you get the owner so there is no communication chain – you go straight to the top!
Use of only the best quality materials of your choice, including tile, granite, quartz, and designer plumbing fixtures. Our vast selection will ensure you get the perfect design for your project.
What to Expect from Call Gary's Bathroom Remodeling Services:
Work with us to get the designer look you want, with the functionality you need. We work with you throughout the project to make sure everything from a faucet to the flooring is exactly what you want and need. The large design process is made exponentially smoother with Lisa Henderson, CKD walking you through it.
Your bathroom is just that – yours! We take every step possible to ensure we are listening to what you want and making it happen.
Owner Gary Johnston will be the man working on your project, so you can be confident in the workmanship and work ethic going into your project. Rest assured, your project will be completed in a timely manner and the workspace will be left clean at the end of each day.
Use of only the highest quality materials to fit your design and functionality needs, including tile, stone, quartz, and designer plumbing fixtures.
Other Companies We Use:

Call Gary works closely with Jay Rambo Co., our main supplier of custom cabinets. Their vast array of wood species, door styles, finishes, and construction methods provides limitless possibilities and allows our clients to customize their new cabinets.