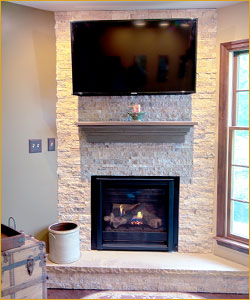 Call Gary Kitchens & Baths is a full service kitchen and bath remodeling firm that has been serving the Pittsburgh area for over 18 years. Since our founding, we have considered elite customer service, top-quality workmanship, and using the best quality materials available to be of the utmost importance. Don't put up with the stress and aggravation other remodeling firms can cause. Get the kitchen or bathroom you've always wanted from local, friendly people who genuinely want you to love the results.
Our design abilities range from custom kitchens to simple bathroom renovations, and everything in between thanks to Lisa Henderson. Lisa Henderson is a CKD (Certified Kitchen Designer) and graduated from The Art Institute of Pittsburgh with honors. For over 23 years, she has been designing kitchens and bathrooms that are not only beautiful, but also functional.
Lisa approaches each project understanding that for her clients this can be a daunting process and a stressful time, with many decisions to be made. She is there to guide clients through every step of the process, listening to their needs and wants while helping guide them to make the right decisions for their project.
When it comes to installation, owner Gary Johnston is the man who will be doing the work! Gary has built ongoing, personal relationships with clients over the years due to his skilled work and tireless work ethic. Gary values these relationships very highly, and because of this he gives every client total commitment and attention to the most minute of details. Know that when you hire Call Gary Kitchens & Baths, you are dealing with the highly trained and experienced owner of the firm.
We help your vision become reality by handling all aspects of the project from the design process to complete installation. So what are you waiting for? Call Gary!